Three reasons why now is a great time to buy land.
You've saved a deposit, secured approval for finance and were getting ready to pull the trigger on buying a house and land package – and then COVID-19 hits. Or maybe you hadn't really made up your mind yet, but are finding that the lower cash rate means your savings are just sitting there, not earning interest but certainly attracting bank fees. Being in lockdown doesn't mean your new home dreams need to go on the skids, however. If you're in a position to do so, here are three reasons why now is a great time to buy land.
1. Get the process started sooner.
Most
land for sale
in Sydney is greenfield – which means ideally positioned land that hasn't been built on before. Once this land is purchased, it takes between 6-18 months for it to be registered for building; in that time, roads are built and services like sewer and power are connected to the site. A 10 per cent deposit is required for buying land, however the remaining funds aren't paid until the land registration process is complete. This means you can secure a block of land now for 10 per cent of the purchase price, which starts the registration process – and not pay anything else for another 6 to 18 months. Putting that deposit down now means you've secured the block and kicked off the registration process that will continue while Australia rides out COVID-19. Holding off will mean you have to wait that much longer for your land to be ready to start building, a couple of years from now.
2. Put your money to work.
We all get excited when official interest rates go down because that means cheaper mortgages. One downside of low interest rates however, is that it starts to cost savers money. A low cash rate means low interest rate returns for savers. With official interest rates currently sitting at a record low 0.25 per cent, it's never made less sense to keep your money in the bank. If you've saved a deposit, you will find keeping it in a bank could soon start to cost you money. Bank fees still apply on balances even if you're not earning any interest – which means you'll be paying the bank to hold on to your money. Putting those savings down as a deposit on a piece of land, however, means you're putting your money to work as the value of your asset appreciates over time.
3. Get a jump on everyone else
The Sydney property market has been inflated by FOMO since late 2019. That's been put on pause for a moment thanks to COVID-19 isolation measures, but it is likely to come back in force once the pandemic has passed. These next few weeks are a blessing for anyone looking for breathing space and less competition on the plot of land they want to buy. It'll provide you with extra time to investigate your options, get the advice and approvals you need, and make a decision without other buyers breathing down your neck. Is this you? Call us on 1300 733 193 to speak to a sales consultant. Our team is still working through this period and looking forward to giving you the advice you need.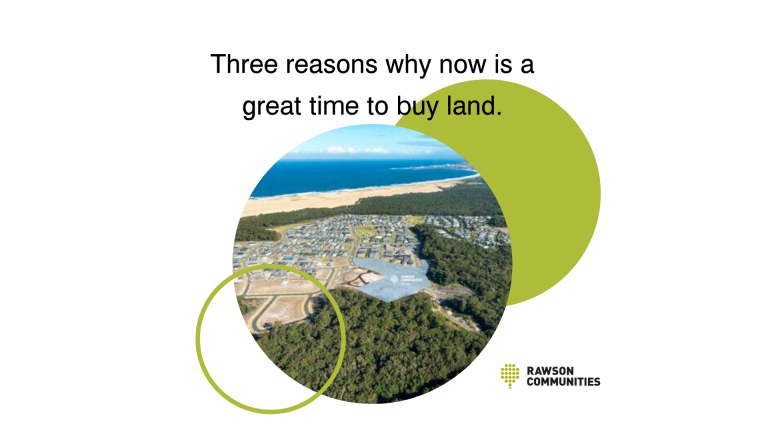 ​