Sydney in 10 years?
What will Sydney look like in ten years' time? Sydney's population is expected to grow by more than 1.2 million people by 2030.  That's a massive rate of growth that will fuel ever-increasing demand for housing in Australia's largest and most popular city.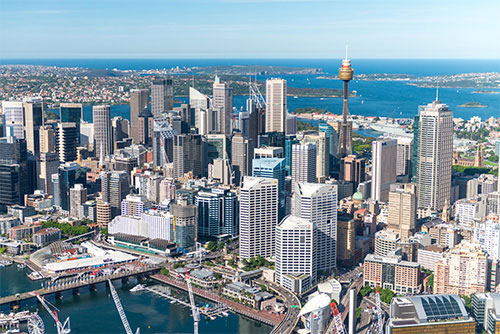 The Sydney Morning Herald recently ran an excellent in-depth analysis of where this new population will live in Sydney in ten years, drawing on University of Sydney research.  It found that much of this new population will be located in parts of Sydney that are either currently under development, or are greenfield – meaning land that is yet to be developed for homes.
In other words, areas of Sydney that up until recently was home to grazing cows, will house some of the largest communities of Sydneysiders.
People living in these areas will commute to work via rail and road in Sydney, Parramatta and Liverpool CBDs, and to new business hubs like the planned aerotropolis at Badgery's Creek.  Infrastructure already under development in Sydney's western growth corridor – such as transport, schools, shopping, industry and services – will by then have been fully established.
For anyone looking to buy or build a home in Sydney right now, these 10-year growth models should be something to get excited about.
Buying a home is more than a question of where we want to live.  Especially in Sydney, where home ownership is a path to long-term financial security, finding an affordable asset that will deliver strong capital growth is a popular pursuit.
The rapid population growth expected for Sydney's underdeveloped western corridor represents that opportunity.
Right now, new house and land packages in emerging suburbs like Austral, Leppington and Marsden Park are available for hundreds of thousands of dollars less than buying a second-hand home even 10 kilometres closer to the Sydney CBD.
What's more, simple supply-and-demand economics suggests the capital gains on anything built in the next 12 months will be significant within a decade.  The difference will be even more stark on new house and land packages purchased with already-registered land in late 2019 and early 2020.
If you're interested in learning more about what's available at Rawson Communities across Sydney's western growth corridor, click here.
​