HomeBuilder Opportunity: why you need to buy with Rawson Communities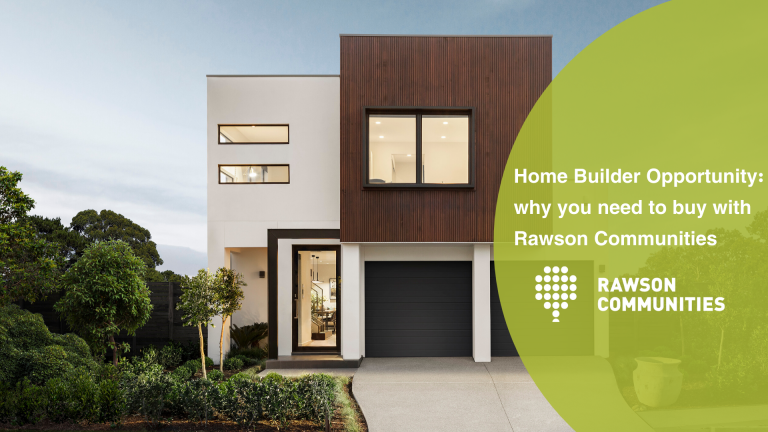 The introduction of the Australian Government's $25,000 HomeBuilder grant is game-changing and exciting news for anyone building a new home in 2020.
If you're building a new house on land you already own, or are buying a new house and land package for building to start before the end of the year, you may be eligible for a $25,000 cash grant under the HomeBuilder scheme.
To qualify, the total value of the new house and land purchased after June 4, 2020 needs to be no more than $750,000, and applicants can't earn over $200,000 a year if they're a couple, or $125,000 per annum as a sole applicant.
The window for applying for HomeBuilder is short; you need to be signing contracts from now and by the end of September 2020 in order to qualify. We can make it quick and easy, and help you avoid the risks along the way. Find out more about all the most important things to know before buying land.
With five land estates across Sydney by Rawson Communities, houses by Rawson Homes and Thrive Homes, and mortgage brokers Mint Loans all under one roof, Rawson Group has everything you need to maximise your chances of securing a $25,000 HomeBuilder grant.
Unlike others, when you organise your finance and buying a house and land package with Rawson Communities, we will:
– Lock in your land, and only take your 10 per cent land deposit until your finance is approved.
– Fix your house and land package price, guaranteeing no more to pay.  If any costs blow out during the building process, we'll cover them.
– Provide land that is already registered and ready for building – saving you from the danger of a delay in land registration costs and time.
– Handle every aspect of the Council application process, making sure it's as quick as painless as possible, and that building is ready to commence before the HomeBuilder grant deadline.
– Guarantee your house and land package is the best-value deal for the suburb and area you're buying in – saving you the additional costs you'd incur by dealing with different land developers, builders and finance brokers.
– Pay any interest on your land finance between signing contracts and the start of building – for up to three months.
We'll look after everything, including applying for HomeBuilder on your behalf.  All you need to do is choose which of our fantastic neighbourhoods you want to build in – and leave the rest to us.
You need to act fast, as packages are limited.  Register your interest now at: bit.ly/3387qrh
​