Where else can your kids climb the sand dunes, as a family you can enjoy the beach by foot or by 4WD, cycle through a national park or just unwind all within 5 minutes of each other? Welcome to Seaside.
Sub-tropical forest merges seamlessly with the sea at this unique beachside community. What is also perfect is when you are not visiting the beach or the surrounding bushland you can enjoy the parks closer to home.
Seaside is the perfect place for work and play. You can be in the centre of Newcastle within 15 minutes, catching a plane in 10 or enjoying all that your new big back yard has to offer in next to no time at all.
Lifestyle
Surfing, fishing, bike riding, golf, four-wheel driving and bush walking are just a few of the local attractions.
Parks
Seaside is bordered by Worimi National Park and Stockton Beach, and dotted with playgrounds and recreation parks.
Education
There are many renowned primary and secondary schools in the area including Newcastle Grammar and Newcastle High School.
Transport
Frequent buses and ferries service Newcastle plus the airport is only 6 min away.
Liveability
This is coastal living at its finest, a holiday lifestyle minutes from Newcastle CBD.
The Location
Project Masterplan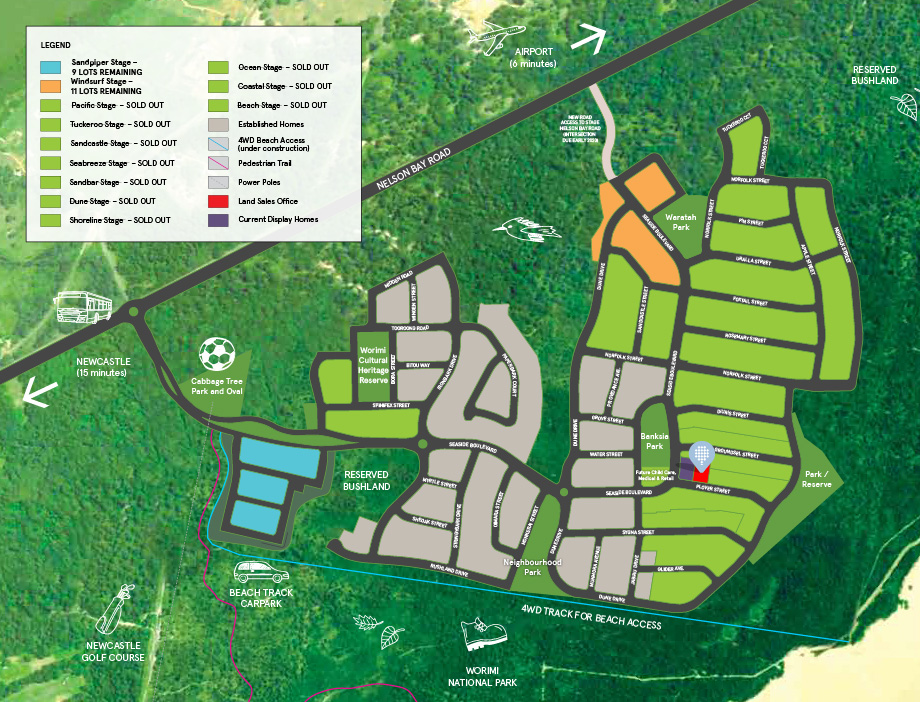 Featured Products
Seaside, Fern Bay